We've Fall-en far now
This is my favorite time of year. The riotous color, the harvest, the ripening, literally, of months' long work. And at the end of the season as it gets cold and dark...Chrysanthemums! What a pay off!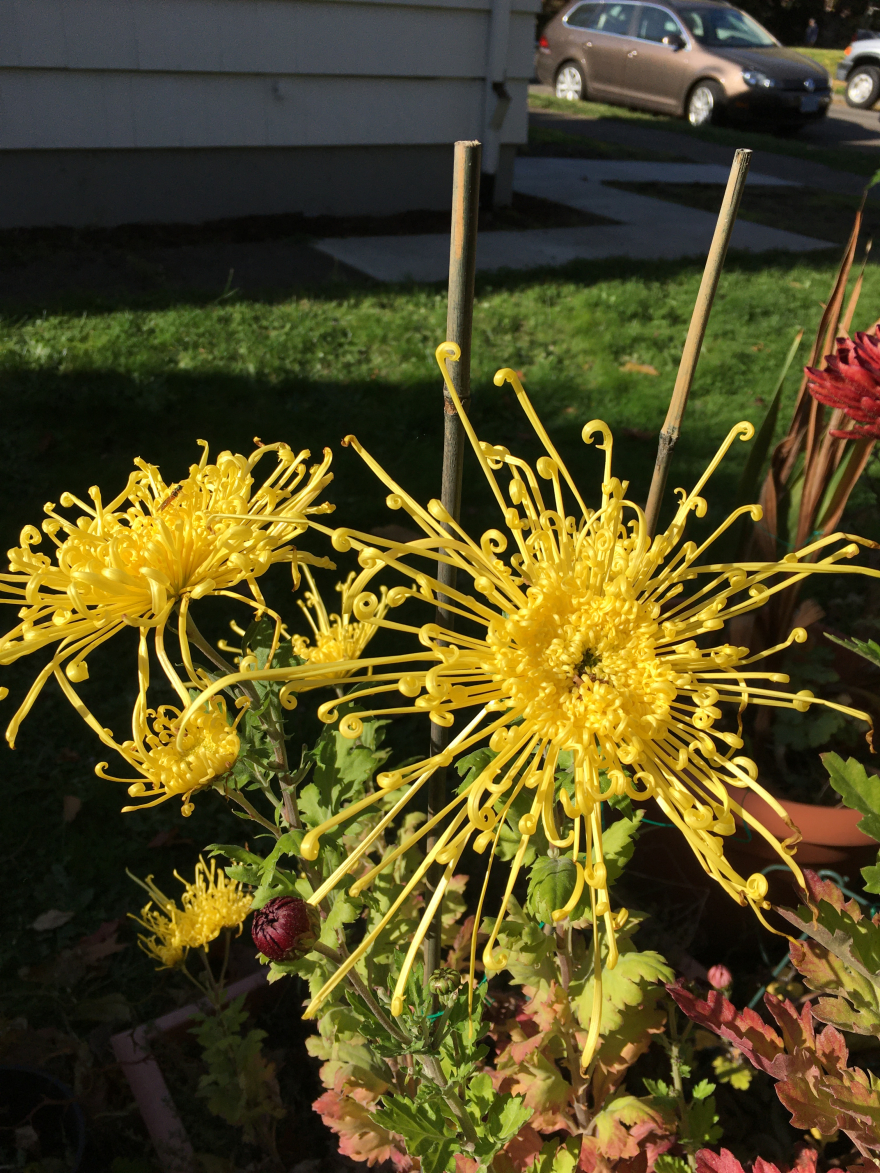 Videos
I've been doing quick live videos on my Facebook page. One called Two Minutes on Tuesday, (It's actually three to satisfy their algorithms :) ) and a slightly longer one on Followup Friday expanding on that theme. I've had different themes each week, so far I've covered (the links will take you to the videos):
My goal is, as always, to highlight, encourage, promote the use of, and your skills in, using tapping in your own life.
I hope these short videos illuminate how useful tapping is and how transformative a journey this can be. Let's evolve together!
COOL RESOURCE
Sometimes EFT works like magic, fast and easy; and sometimes it seems to take a long time. So people have continued to develop variations that seem to increase the effectiveness in those situations. I've been reading material from Andy Hunt and I like his straight forward manner. This article, The Stunt Double Process, outlines one such iteration. I think it sounds promising and I'm going to try it on something I've been stuck on for awhile. Tell me what you think if you try it, did it work for you?
UPCOMING EVENTS
Tap with me for free at the on going Tapping for Stress Relief group on the first and third Mondays of every month. the next date is Nov. 18th
The on going information page is the place to check for monthly dates and weather related changes. If there is a weather issue I'll post a link to a Zoom room for virtual tapping.
Speaking gigs/schedule a workshop with me
Do you have a group of friends who might be interested in knowing about EFT? I'd love to spread the word about EFT to more stressed out folks. Teacher's groups, women's groups, lunch and learns at work, church groups, health recovery support groups, would all be wonderful places to get the stress reducing message out.
If you'd like to have me come and speak I'd love to hear from you! Click here for more information
CONNECT WITH ME
Access regular bits of inspiration and information about tapping, neuroscience, and trauma consequences and recovery, or send me questions in messenger, or just follow along for cool resources at: Facebook:https://www.facebook.com/lovetapping/


Of course you can email me at : pheft22@gmail.com
Ready to take the next step in improving your life and health with proven tools and an experienced Trail Guide? Let's do it!
Blessings to you all as you navigate the jungles of time and space (nod to TUT)
Thanks for reading and listening and I hope you find much value in our ongoing exchanges.
Penny